Mohawk Smartstrand flooring Bucks County, Pa (215) 943-5667
Experience the Best in Carpeting with 94 Floor!  New Environmentally Friendly Flooring with many styles and easy Installation!
Mohawk Smartstrand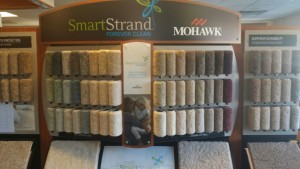 Mohawk is stating they have "The toughest and easiest carpet to clean on the Planet" .  I believe them!
So what makes this possible? Most carpets are treated with topical protection that give way over time.  After multiple washing's, the protection fades and stains stay.
With Mohawk Smart strand,  the protection is built into the strands.  There are dyes in the fibers of carpet that can be sticking points later on for the stains to stay.  With the smart strand brand, the dye is no issue.  They offer a 100% lifetime protection guarantee!
Why Choose Mohawk SmartStrand:
Best protection for Kids and Pets
The only carpet with permanent built-in stain and soil protection that won't wash or wear off
Durability that preserves the style, beauty, and appearance of your carpet
You can find out more about the full line of products that smartstrand provides here!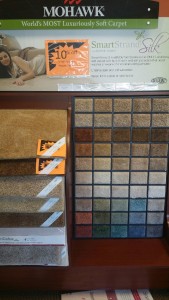 Olden Carpet and Flooring is a proud provider and installer of the Mohawk Smartstrand brand and product.  Fell free to call the offices at Olden Carpet and Flooring and have any and all your questions answered.